Acid Mothers Temple & the Melting Paraiso U.F.O.
Absolutely Freak Out (Zap Your Mind!!)
(February 2001)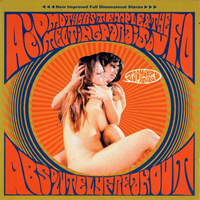 allmusic.com
:
"Led by the original "speed guru" himself, Kawabata Makoto, Acid Mothers Temple are a 12-piece band this time around, and these 12 people have come up with a bounty of music so magical and infuriating that a single disc would not have been enough. Absolutely Freak Out: Zap Your Mind! is Acid Mothers Temple's highest peak, over two hours of their trademark freakout goodness. "Supernal Infinite Space/Waikiki Easy Meat" is the highlight, starting with a long, spaced-out guitar drone, which finally coalesces when the back-masked drums arrive to save the day. This piece is reminiscent of Acid Mothers Temple's other peak, "In E," their adapted take on Terry Riley's "In C." The track is a complete Krautrock drone freakout that relaxes into a jazzy, spacy-lounge trip. Were there to be a best of AMT, "Supernal Infinite Space" should be the lead track. "Children of the Drab" is notable for its similarity in structure to Faust's "Tapes." The song starts out a slow Pink Floyd-ian blues, then moves into an acid-washed middle section of Floyd's "Echoes," with vocalist Cotton Casino's strange Yoko-esque vocalizing and a menacing guitar. After building up and melting down several times, the band name-drops Stone Cold Steve Austin and then launches into one of its most aggressive pieces, "Surfin' Paris-Texas," which only runs about two minutes before again morphing into another section. The piece is staggering in construction and disorienting in execution. Absolutely Freak Out: Zap Your Mind! is a perfect introduction to this most prolific and intimidating of bands. It showcases the level of diversity and the instrumental acumen of the group. Recommended."
Tracklist:
1. "Supernal Infinite Space / Waikiki Easy Meat" - (19:20)
2. "Grapefluit March / Virgin U.F.O. / Let's Have a Ball / Pagan Nova" - (18:37)
3. "The Incipient Light of the Echoes / Magic Aum Rock / Mercurical Megatronic Meninx" - (19:45)
4. "The Kiss That Took a Trip / Magic Aum Rock Again / Love Is Overborne / Fly High" - (18:35)
192 kbps
Click here!